Hello! As my screen recorder is down for IOS9, I thought I'd go ahead and make another guide. For all my other guides, click the link! Maus Tiger II Jagdtiger Pz. Kpfw. 38h A-32 Valentine Mark II Panther 1 Hellcat Churchill 1 M3 Light
SU-122-44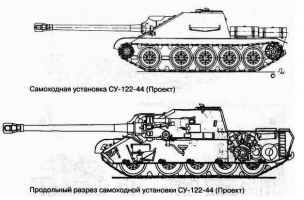 History: In early 1944, the Soviet Union was looking for a faster and more mobile tank than the previous non-turreted tank destroyers such as the SU-152, while still packing a large calibre round. Uralmash Design Bureau was responsible for the original SU-122-44 design. Two designs were proposed, the SU-122-44 (Mounting the 122 mm cannon) and the SU-100-M-2 (Mounting a 100mm cannon), both based off a T-44 chassis, in the style of that day (the style being making TD's off of existing chassis).The 122 combat compartment was located frontally, the accepted and common practice for SovietTD's, and the 100-M-2 was mounted in rear. Pic Below. 
   Both designs were thought out, however in the end the 100-M-2 was chosen over the SU-122-44, and a wooden mock up was completed, but no vehicles were ever produced, as other projects received more funding such as the produced IS-3 and experimental IS-7 project.  The research that was undertaken in the development of the SU-122-44 was valuable for future TD projects that the Soviet Union produced. 
Maneuverability (8-10): (Tier VIII V-44) (Tier VII Suspension Su-122-44 8/10) This tank is not sluggish by any means of the imagination, it's top speed being 48 K/ph which is easily attained and kept with it's 500 HP engine and 32 ton weight.  The traverse speed is 38 degrees per second, very decent, one of the top values for tier seven TD's. Remember that the Soviets meant this tank to be able to rush to various different frontline as needed, an ability it easily demonstrates. Relocating is easy, and never takes long. Such speed should not be abused to overextend all support, an easy thing to do with this speed. Circle of death (COD) can be broken with such a high traverse speed, a handy ability to have.
Firepower: 8/10 (Tier VIII Gun 122mm D-25s) An awesome gun for it's tier with 2442 base average damage with AP per minute which can be buffed significantly with equipment and consumables. The base reload is 5.83 RPM. AP penetration is 131-219, a bit low for its tier, but sufficient; however, its APCR pen is 163-271 which is sufficient for all but the most hardened and angled targets. HE is an option, with 48-80 pen, I keep a few rounds on board for targets of opportunity, as its value does let you penetrate various tanks sides and rear. The 122mm was equipped on several tanks during WW2, and was an obvious choice for a tank that needed mobility and packed a punch. One issue with this gun is it's depression... a horrid -4 degrees. Many times I have missed kills due to not having the depression to hit the target. The dispersion is 0.41... quite bad... and the aim time is an average 2.3. Overall it has a gun that I consider to be one of the best at it's tier, that can take a chunk of HP out of any tank careless enough to get in your way. 
Armor: 6/10 The frontal armor is...interesting. Some T7 and T6 will have issues penetrating the front without APCR, but this does not apply to all tanks of these tiers by any means. Don't depend on your amor, which is 90mm HEAVILY slanted, but doesn't cut it in a lot of scenarios. Your averag-ish 950 HP is just that... average. The sides are 75mm flat, (Some tanks can pen this with HE as well as the rear) and the rear is 45mm. Some tanks will have issues penning, but your armor won't bounce almost any shells from t8-t9. Sufficient, but not amazing. This is balanced with good speed.
Upgrade path: Not applicable. Premium tank. 
GAMEPLAY: 
When top tier, you will PWN the field of battle, by playing a mix of second-line and front line combat, retreating behind cover when reloading. Pick a spot where your horrid gun depression of 4 degrees won't affect you. Watch for a lack of team support, if so, relocate with your speed if you are in imminent danger. Watch for chances to use HE  on the sides of an M4 crusader, comet, etc. Be careful not to show your sides and rear to derp guns, and you should do well. When low tier, aim at lower glacis's with APCR and you should normally penetrate. Don't hardcore snipe, this tank's camo value is not great and you have speed for a reason...not to mention horrid gun dispersion. Play behind your teammates in a supportive roll. Look for opportunities to hit sides and rear of tanks, and don't be afraid to expend lots of prammo...This tank has high credit earning potential. The basics apply to this tank as well, angling your highly slanted armor helps deflect some ammo, and don't abuse your speed to YOLO rush/scout. Overall, a capable, front liner at high tier, and a capable second line tank at mid-range. 
Equipment/Consumables: I personally recommend an easy and normal layout: GLD, Gun Rammer, and Vents. For consumables, I run Multi-repair kit, repair kit, and adrenaline. 
Suggested Ammo: 20 AP, 10APCR, 5 HE. Don't be afraid to expend lots of prammo, and watch for the chance to use HE!
  Is It Worth It?: I'd get the 25$ pack if you want the most value, 30 Days of premium and 800 gold and a garage slot and the tank itself are well worth the price tag IMO. The tank itself is one of the absolute best credit earners out there, easily out producing credits earned by my premium tier eights at times. 50-70k credits per game seem normal for a win if you do around 2000 damage. With premium account, the value it earns goes through the roof. The tank is easy to learn, and is a crap ton of fun to play.... 1,000,000,000% recommend buying it. Get it while you can! 
I hope this guide was helpful, let me know how to improve these! Have a good day! 
Edited by alexbuildit, 12 October 2015 - 11:19 PM.