You know what tank I find is the most challenging to play and makes you think the most mediums. How a medium plays is based completely on how the match is going. To do a complete breakdown of all of the many tactics used by mediums would be madness. I will break it down into three easy to understand groups of tactics and then break it down from there. Please be aware that not all mediums will use these tactics and may lean more towards heavy tactics (ex. Super Pershing).
Flanker
Flanking is engaging an enemy from their vulnerable sides or rear while another player on you team engages them from the front. Flanking is the core of Russian mediums due to their speed and maneuverability and high ROF.  Although any tank with enough speed can execute flanking. There is different categories of flanking also :
Flank and Spank : engage an enemy from the side or rear while a teammate shoots the enemy in the front. Repeat until dead.
Flank and Distract : Force enemy to point his gun at you allowing another a teammate to shoot and not be shot at
Flank and track : Flank a TD or slow moving tank and track them to stop them from moving allowing teammates to move around them and get side shots.
Circle of Death : Continuously move in a circle around an enemy firing till the target is eliminated
Sniper
Some mediums such as the Germans are excellent at sniping. For a medium tank to qualify as a potential sniper it must have decent accuracy. If you have a medium with horrible shell dispersion do not attempt sniping. There is tips and different ways with sniping as a medium. 
Static Sniping : Basically find yourself a vantage point and  shoot at what comes into your range. Use this if your the only person who has the shot and you are sure that if need be you can get into battle. But, move with the battle and if a friendly TD is there close the distance to the target and engage in flanking.
Mobile Sniping : Once a target is spotted, wait to be full aimed and then shoot. After shooting continue moving on to avoid retaliation. Use this tactic to get shots off at a target while closing the distance to them or to pick off multiple targets. 
Dos and Don'ts
Do - Take shots at enemies if they are lit up
Do - Aim for weak spots on a tank
Do - Shoot when enemy is distracted
Do - Aim for targets with low armor or health
Don't - Use APCR, it loses penetration with distance traveled.
Don't - Stay back and camp the whole game
Don't - Static Snipe while there are friendly TDs nearby, that's their job.
Don't - Use this against heavily armored target, your just wasting ammo
Don't - Snipe with a derp gun
Don't - Snipe against an enemy TD who is looking right at you
Scout
If you are bottom tier or it is close to the end of the match use your speed and go scout. Any tank which has a relatively good speed can do this. There is also different types of scouting which you can use.
​Aggressive Scouting : Make a bee line for the enemy, constantly swerving and executing erratic maneuvers. Do this when passive scouting fails. But remember your goal is to find the enemy and live to tell the tale not to go suis-scouting.
Static Scouting : Move up to a vantage point with bushes and sit there and wait for enemies to come by. Once they do, do not move, if your 6th sense light bulb goes off get out of there. 
Passive Scouting : A combination of the two above. First go locate a good spotting position with bush cover. Stay there for about 30 seconds. Move up to another location. Repeat this till the enemy are spotted or if you 6th sense goes off. If 6th sense goes off relocate to previous position.
Other Tactics : 
Some tactics listed here are specialized and not all mediums may be able to do them or they require a specific situation for them to work.
Hull Down : American mediums have excellent turret armor and gun depression. This allows them to have just their turret poking out from an area and bounce shots of their turret while still being able to fire back. Russian mediums can also do this but lack gun depression. 
Anti-Scout - If early in the game a scout breaks through your teams lines and goes for lightly armored targets. A fast enough medium can chase after it, track it and then destroy it before it reaches 
Assassin - Go out and hunt for tanks with the lowest amount of health. Picking them off from far away or close in for the kill.
Flexing : Moving from one part of the map to another to support another flank or stop base cap. To know when and how to do this is the hallmark of a good medium player.
Things to keep in mind as a medium 
Don't stop moving while engaged in combat. Your speed is your primary advantage over others. Use it and abuse it.
Don't think you have armor. Pretend that any shot which hits you will penetrate you. Use your agility to dodge shots and outmaneuver enemies.
Aim to cripple and kill. Learn where to shoot enemies to make the less effective in combat. Learn what spots are easily penetrated. Know your enemy.
Situational awareness. Be aware of where you are, where your enemies are. Check the mini map often. Move to a new position as necessary. Know how much health your enemy has. See if your team or the enemy is capping the base. 
Be smart. If one thing is not working try doing something else. If you are confronted by an large enemy force retreat to allies. 
Mediums may be really fun to play. But remember they are not easy mode. If you don't think while using one, you will be destroyed quickly. If you do think while using a medium you can carry.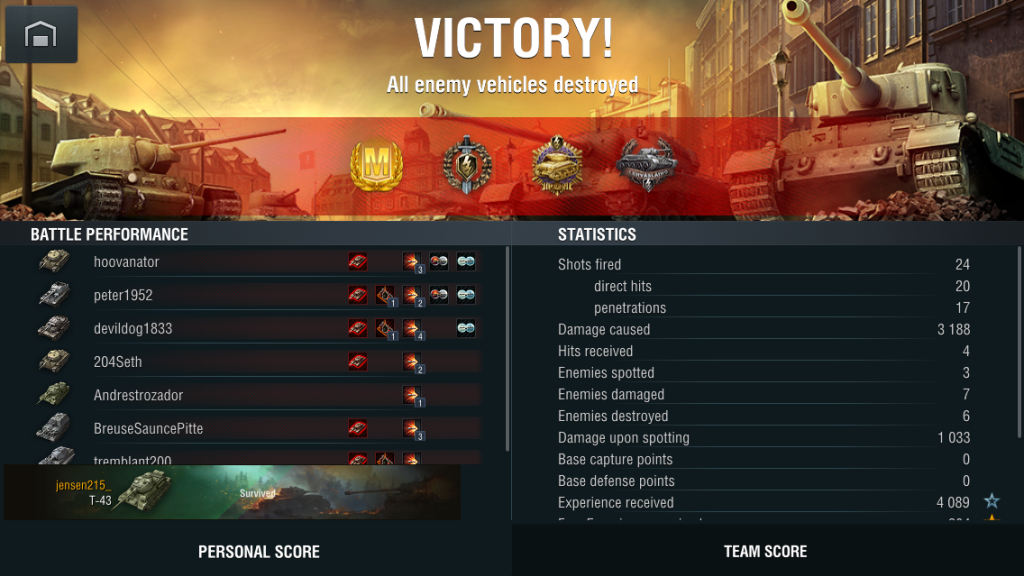 Edited by jensen215_, 27 October 2014 - 08:05 PM.